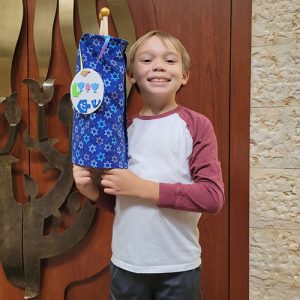 About Our Program
Rodef Sholom Temple Religious School serves children from kindergarten through high school. Our program is designed to engage families in joyful, relevant Jewish experiences. We work to create connections between children and families and within the Jewish community, with lessons and events that help children to develop a deeper appreciation of the depth and breadth of Judaism. Religious School classes meet on Sundays, 10 am – noon. Students and families will also come together with the congregation for holidays, Shabbats, and special events. Each class will have opportunities to lead prayers or songs during the year.
The Religious School theme for the year 5784 is "Telling Our Stories." Jewish history and tradition are based on stories. Retelling our stories creates connections: from our Jewish ancestors to ourselves, from the traditions of old to those we practice today, and between Jews of all times and places. Research proves that families sharing stories together gives children resilience and connection, and we will provide opportunities for families to come together for programming in addition to our Sunday classes for special Mishpocha Sunday programs and Shabbats.
PreK – 6 Class: The morning begins with a joyful tefillah (prayer) session and includes a social/snack time midway through the learning time. Students will work with art, music, drama, and text to explore Jewish holidays, values, traditions, and history. There are multiple opportunities for small group learning as well as collaboration with other classes on projects, prayer, and special programs.
B-Mitzvah Class: Students in grades 7-9 will be part of a new program that allows students to advance in their Jewish learning with a focus on Jewish action. This class will offer students opportunities to help design their own studies to incorporate their interests. Jewish text study will be included along with art, film, music, and drama to help students develop their own Jewish practice. The B-Mitzvah Class will participate in Sunday morning tefillah and will also create and lead a prayer service for the Religious School.
Confirmation Class: Students in tenth grade, as well as high school juniors or seniors who have not had the opportunity to go through the Confirmation experience, are invited to register for Confirmation class. Rabbi Eligberg is looking forward to studying with this year's class as they complete their formal studies at Rodef Sholom Temple. Connecting to this year's Religious School theme, this class will focus on each young person's story within the context of their family's narrative and the history of the American Jewish community. The class schedule is still being determined. Contact Rabbi Eligberg for more information. rabbi@rodefsholomtemple.org
Hebrew: Rodef Sholom Religious School students participate in a weekly prayer service, learn the letters of the Hebrew alef-bet, and are introduced to Hebrew vocabulary related to holidays, values, and prayer. Students in grades 3 and up are expected to register for the Community Hebrew School offered through the United Jewish Community of the Virginia Peninsula. Students younger than third grade are encouraged to participate in the Hebrew School as well. Contact Carmela Malkin at 757-930-1422 or go to https://ujcvp.org/hebrew-school to learn more.
Institute of Southern Jewish Life: Rodef Sholom Temple Religious School participates in the Institute of Southern Jewish Life (ISJL) curriculum framework and utilizes ISJL lesson plans to help guide school programming and grade level curriculum planning.
Rel Sch Calendar 2023 2024 as of 8-16-23